Oftentimes suppliers will have rates based on multiple meal bases.
In Travelogic, you will only have to add the service once but add all meal basis rates on the Rate Sheet.
Let's say a supplier has both BB and DBB rates; follow these steps to load the supplier:
In Rate Rules:
Add the Validity Period and other applicable rate rules as required.
In Services:
Add the service as normal, choosing the most commonly used meal basis, as the default for the service.
Let's say Bed and Breakfast is the default meal basis:
In the Rate Sheet:
Add the rates for Bed and Breakfast as normal:
Next, highlight the services and click the Copy button at the top of the screen:
Select the meal basis you need to add to the rates; in this example, its Dinner Bed and Breakfast:
You may also choose to clear the existing rates:
You should now have 2 sets of rates for both meal bases ... now enter the rates for DBB: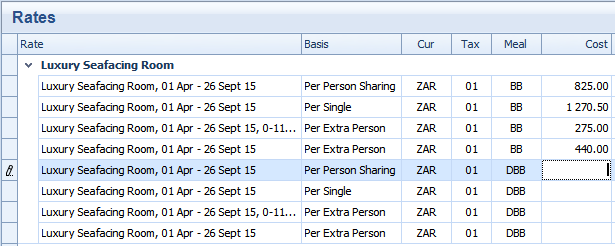 You can also filter the column to only show the meal basis you need - this will make it easier when adding the rates:
Hover your mouse at the top of the meal column until a little filter icon appears
Click on the little filter and

select

the meal basis you want
(Don't forget to un-filter the selection when you are done.)
Approve the rates as normal.
Save & Close.
How to use multiple meal basis rates in a Quotation:
Using the Find Service or Add service screens, select the service to add to your Quotation as normal
Adjust the Date and Duration of the service
Now click on the Meal Basis dropdown to change the meal basis from its default: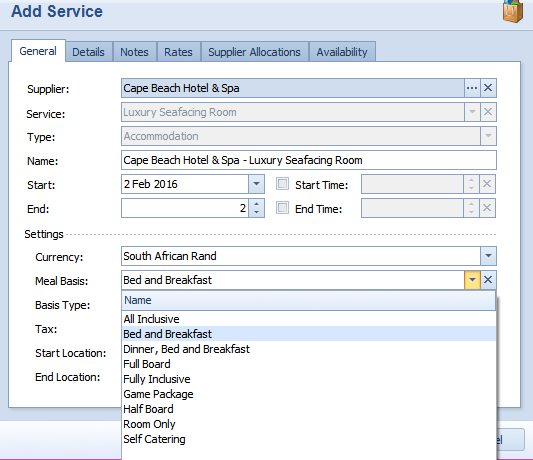 Tip! At present, we cannot filter this list to only show the applicable meal basis for this service, so we recommend adding a Consultant Note, advising the consultants of the applicable meal bases to choose from.