Before generating vouchers, go to the Reservations section of your Quotation and check if the service/s have been confirmed.
Now go to the Voucher section of your Quotation, and click Auto Generate
Select the Voucher format you wish to use, click Next
Specifiy the Payment Basis (this is the wording that will be displayed on each voucher
Enter any Voucher Requirements (these will appear on the vouchers as comments), as follows:

Select where you would like to add the requirements; you have the choice of "Add to All Vouchers" or a specific Service Type only
Click New
Add the requirements or select from the drop-down list of saved/previously entered requirements, i.e.
You may add multiple requirements but bear in mind the space allowed on the voucher

Click Finish
After the vouchers have been generated, you are able to edit the following info on each voucher. Simply double-click:

Traveller Name
Meal Basis/Payment Basis
Add / delete / edit voucher requirements
Now run the Voucher Report as follows:
Click File, Reports, Voucher
Select the vouchers; to select ALL vouchers, right click and Select All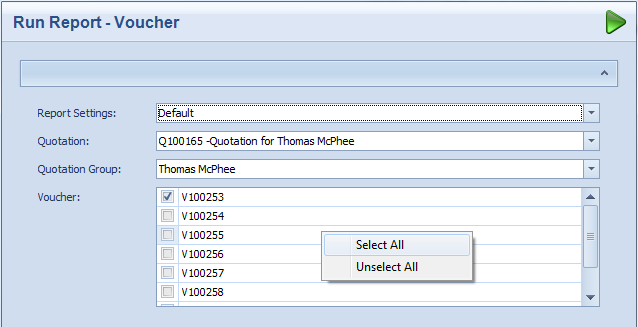 You also have the following options:
The vouchers will now be generated in a Word document.