From the Travelogic Dashboard, click on the 'New Request' button at the top of the screen:
1. Select a Client
In the following screen, click on the Find button
to call up a list of existing Clients
Select the Client and click on Next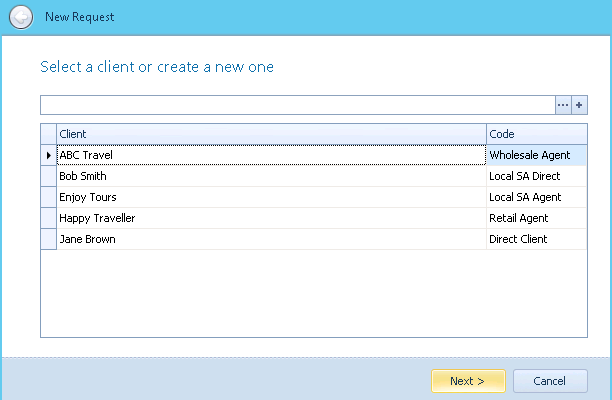 If you would like to add a new client, click on the plus (+) sign and complete the client's details.
2. Add the Request details
In the following screen, enter the following details:
Start Date: click on the drop-down for the calendar and set the travel date of the request
Type: click on the drop-down and select from FIT, Group, Group Series or Incentive
Request Name: the name is automatically generated based on the name of the client, but can be edited
Group Name: enter the name of the travelers or group. Please note that this name is used on the Itinerary as well as Vouchers
Source: usually refers to a Marketing source, i.e. how did the client find us
Priority: click on the drop-down and select from Low, Medium, High or Critical
Client Contact: this will pull through from the contact/s listed on the Client
Assigned User: the system automatically picks up and assigns the name of the logged-in user. Select a different user from the drop-down list to change the assigned user.
Click Next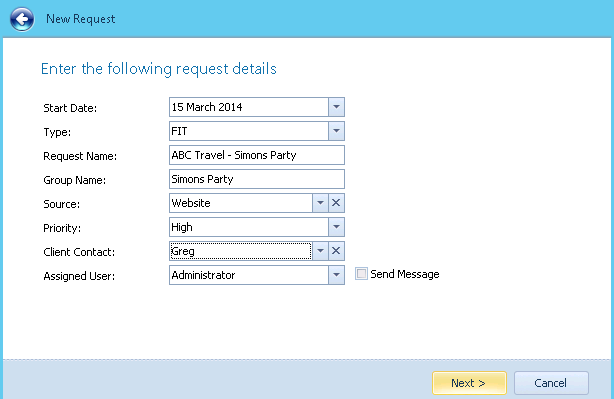 3. Set up the Passengers
Click on the Auto button on the right-hand panel of the screen
Insert the number of Sharing and Single

adults

- the sharing pax needs to be total number of pax in double/twin rooms
You can also insert a Tour Leader, Driver or Guide - costs incurred by tour leaders, drivers and guides in the quote are automatically shared by (added to the totals of) the paying pax
Add a Child passenger, click on the New button on the right of the screen
Enter the name or description of the child
Click on the drop down to select a passenger group - this indicates who the child is sharing with. If left blank, the system will see the child as not sharing with anyone and will allocate Single rates to the Child
Lastly, enter the age of the child. If left blank, the system will allocate Adult rates to the child
Click OK to add the child to the rest of the passengers: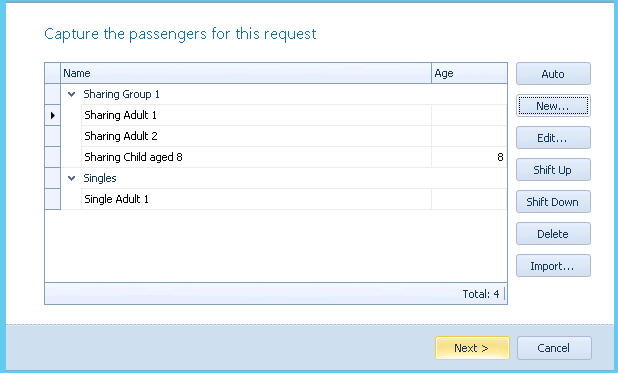 Click Next
Enter any notes that you would like to save regarding this request
Click Finish
You have now added a new request. A quotation will automatically be created for this request. You will find this Quotation on your Dashboard - double click to open it.
You will also find the Request in the Requests screen, click on the + sign to show the attached Quotation - double click to open it.
The next article will show you how to add services build an itinerary.